---
注意,本頁面可能包含劇透,如果你不想被劇透,請立刻離開!
本條目用於儲存新發布的龍與正在進行且數據不完整的活動,以及過後創建的條目。
---
新龍和DC活動的發佈守則
所有新發佈的龍和活動的訊息/更新都只能 在這個條目中編輯.
請不要這樣做
這些規則適用於龍被發布、使用者的新龍也長大幾天以後,過了那段時間就能夠創建條目。


不遵守這些規則可能會導致你收到警告或被封鎖一週。
創建文章

請等待龍的成體出現幾天後再創建相關條目,原因請參閱本文上方的守則。破壞規則可能會導致你收到警告或被封鎖。
2018年萬聖節活動
编辑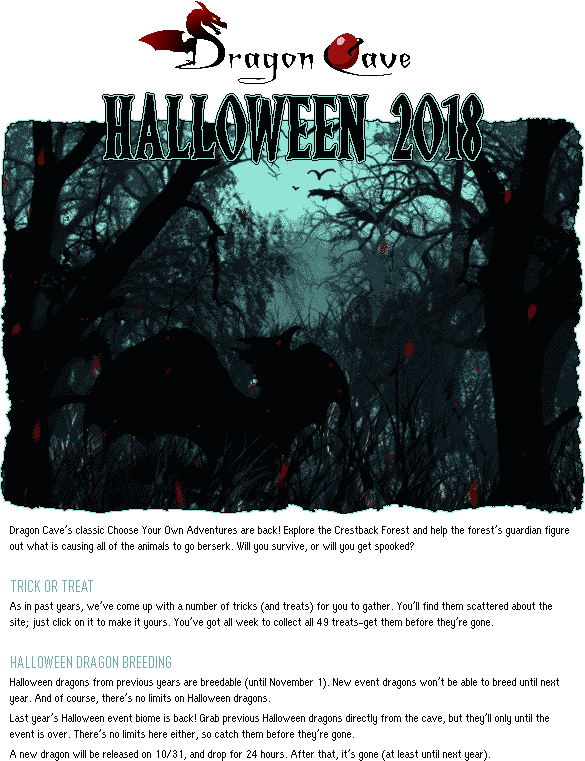 General Event Credits
编辑
創辦人: 不明
卷軸徽章: 不明
活動圖示: 不明
活動橫幅: 不明
活動分隔/邊框: 不明
萬聖節橫幅: 不明

活動分隔圖片

| 用戶 | 藝術家 | 創辦人 |
| --- | --- | --- |
| | ? | ? |
給糖也搗蛋s
编辑
Every five to fifteen minutes, a special trick or treat will appear on the next page. When clicked, a little pumpkin bucket will appear at the top of your scroll (if you didn't have one already from previous year's events), and you can click on it to see the tricks and treats you have collected. See here for more information.
If the pumpkin bucket was obtained in one of the previous Trick or Treat events, the new tricks and treats are placed in there together with the ones from previous years, separated by a spooky border with the newly caught sprites beneath it. If members couldn't participate in the event from previous years, they have the chance to get a pumpkin bucket badge by joining the new Trick or Treat event in 2016. Hovering your cursor over the badge gives a message saying "2010 Trick-or-Treat"; this is the standard message for everyone's badge regardless of the year obtained, as the site recycles 2010's pumpkin badge for each new year's event.
This year there are 49 tricks and treats to be collected in total:
出現在南瓜桶中
编辑
給糖也搗蛋的創作者
编辑
| 創作者 | 圖 | 創作者 | 圖 |
| --- | --- | --- | --- |
| 創作者 | 圖 | 創作者 | 圖 |
| 創作者 | 圖 | 創作者 | 圖 |
萬聖節不給糖就搗蛋(Halloween Trick or Treating)
编辑

萬聖節鬧鬼的森林
It's Halloween—and your routine trip through the nearby forest is about to get spooky...

This year's event is a choose-your-own-story narrative, allowing players to make a choice as part of a story and seeing the kinds of effects this has.
You stand at the entrance to Crestback Forest, pumpkin-shaped bag in one hand and lantern in the other. It's Halloween and your small house on the edge of the forest is too far from your neighbors for any meaningful candy gathering. To maximize your sugar-to-time ratio you have to travel to the city, which means going through the woods next to your house. It's a trail you take several times a year and know well enough, though you usually go during the day. Even so, something seems a little odd about the woods tonight. It's dusk, but there are usually still birds calling, and the insects aren't chirping as loudly as most nights. There's a bite in the wind that you don't remember being there the night before.
You shake off your nervousness. You're just letting the darkness unsettle you. Of course it's colder than usual; it's autumn. It must just be too cold for the forest creatures and they settled down early. You aren't scared. Not even a little. You picture the lights and narrow, winding streets of the city and square your feet. It's candy time.
Before you the path snakes under the trees, heading south. Behind you your small wooden house sits on the side of a hill, windows dark.
| 圖像 | 創作者(們) |
| --- | --- |
| File | Spriter |
| File | Spriter |
2018新萬聖節龍
编辑
蛋
幼體
亞成體
-
成體
-
圖像
介紹
"這蛋上會反光的斑點使你想到了鑽石,或眼睛。"
"噢……是個可愛龍寶寶呢。牠警覺性極高,且愛觀察你的一舉一動。"
"噢……是個可愛龍寶寶呢。牠警覺性極高,且愛觀察你的一舉一動。而且你看!牠長出翅膀了。牠肯定快要長大成龍了。"
"阿爾克那龍極為罕見,並以魔法能力跟古怪勤奮的本性聞名。這種龍具有用來儲藏魔力的特殊器官,也能單憑直覺就使出千變萬化的魔法。牠們的腦袋亦十分優秀,若身邊聚有法師或其他同類,那阿爾克那龍往往會沉溺到魔法研究之中。阿爾克那龍盡可能地開發魔法的各種潛能,且從不吝嗇於分享牠們努力的成果──尤其是對那些表現出感興趣者──此外牠們也會運用自己的能力與知識,耍耍那些自以為能佔牠們便宜的生物。"
創作者(們)
TheCompleteAnimorph
TheCompleteAnimorph
TheCompleteAnimorph
NiramiTheRaven196, TheCompleteAnimorph
已確認:
Stage 0
Stage 1
Stage 2
Stage 3
Stage 4
Stage 5
Dead
TJ09 secured 3 eggs with the following codes: "takea", "llthe" and "SPUDS".
節慶繁殖 & 再度發布
编辑
Previous Halloween dragons are able to breed and produce Halloween eggs. Go to the Abandoned Page to catch some of the former Halloween eggs. The breeding period will start on October 25th and last for a week to November 1st.
Previous year's Halloween dragons are now available to be caught as Cave-Born eggs from their own unique biome. There are no scroll limits, however this biome will disappear at the end of the event. On the dragon's View page, their biome is listed as "Cave".
有待新增。
創建條目

下列新發佈和活動已經被創建,你可以在下方找到他們。