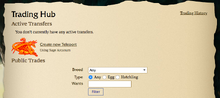 The Trading Hub was released as part of DC's 12th Birthday Release. It allows users to see their active trades, offers, and transfers, as well as introducing public trades. The Trading Hub can be found at https://dragcave.net/trading
On August 26, 2018, the Trading Hub received an update, introducing pagination of public trades and clarifying rules for the "Wants" input.
Active Transfers
Edit
The "Active Transfers" section displays any active Teleports you have created, as well as any offers you may have made on other users' trades. If a user has a Magi Dragon available to Teleport, it also offers a shortcut to creating a new trade.
Public Trades
Edit
The "Public Trades" section displays all publicly available trades created on Dragon Cave. Trades appear the order they were created, with the most recently created trades appearing at the top. Public trades may be filtered by stage, breed, or text search of the "Wants" field.
Trading History
Edit
The "Trading History" page displays your recent trade and transfer activity. Similar to the action log, it includes a log of the transfer type, timestamp, transfer status, and the eggs or hatchlings transferred for all trades and transfers a user creates.
Prior to the implementation of the Teleport BSA, users would attempt to trade dragons via the Abandoned Page. However, this was not an intended feature of the site. The urls to collect a dragon from the AP are now obfuscated, making this practice impossible.
Community content is available under
CC-BY-SA
unless otherwise noted.