Snow Wars 2 was the Dragon Cave Christmas event in 2018. Like its 2013 predecessor, Snow Wars, users could build and maintain their own forts and launch attacks on other players.
Event Announcement
Edit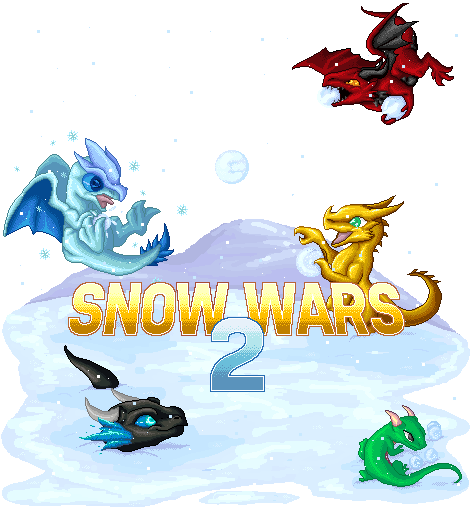 Happy holidays, everyone! The 2018 Holiday event is here, and we've brought back (well actually, completely remade from the ground up) one of the most popular events from the past: Snow Wars. Build up your fort, conquer others, and level up to unlock even more decorations, weapons, or defenses.
The new Holiday eggs are here as well. You can find them in the the cave for three days (until 12/27 at 11:59 PM EST). After that, they're gone until next year.
As with the original Snow Wars, we've brought you an encore! This encore brings four more days (until Jan 4 at 11:59:59 EST) to decorate your fort, along with 50 new items to decorate with—many of which are returned from the original event.
Happy New Year!
General Event Credits
Edit
Visual Assets:
Music:
2013 Encore Assets:
| Trophy 1 | Trophy 2 | Trophy 3 |
| --- | --- | --- |
| | | |
Christmas Event
Edit
2018 Holidays Event -- Snow Wars 2
Snow Wars is back! Build up your fort, and conquer others to level up and unlock even better decorations.

Snow Wars is a massive snowball fight between you and all the other people playing Dragon Cave. Build up your fort to defend yourself from attack and bulk up your offensive capabilities so you can attack others. Damaging objects on enemy forts grants Experience Points, which unlocks new defenses, weapons, and decorations for your fort.
At the end of the event, your fort will be saved to show off to others— and don't worry, all damage will be wiped away.
Navigating The Event
From your base, you can choose to edit your fort or do battle. While editing, you can return to your base by clicking on it and choosing the "Enter Base" option. Editing
Click the plus button to build new things. While placing (or moving an object), right click to turn objects around. Not everything can be rotated.
Resources
Building new things requires resources. Every hour (including while you're not playing), new desposits (snow drifts, ice crystals, etc) will appear. Destroy them to get the resources they contain.
If your fort is full of decorations and there's no room for new deposits, don't worry—they'll spawn as soon as you free up space.
Battling
When battling, you can either choose a specific target if you have someone in mind, or just attack a random fort. After selecting a target, choose your weapon and you'll be given the opportunity to choose where to attack. Each weapon can attack once per hour.
If you reduce a piece to zero HP, you will receive XP. Gain enough XP and you will level up. New resources, weapons, and defenses unlock as you progress through the levels.
When someone attacks you and damages your fort, you can repair the affected items by clicking on them. Damaged items cannot be moved, and damaged items cannot be used to attack.
Experience points can also be gained while a player is offline and attacked, or by building certain objects in the game. While leveling, the experience bar will be a blue gradient, with the maximum level being 50. Once Level 50 is reached, the experience bar will be a red/gold gradient and additional experience earned goes towards extra resource drops for the player. It is currently unknown what causes a player's scroll badge to change in color.
Several updates were added to the game after release to help patch bugs or issues that users were reporting:
The Aegis Dragon found in this game, nicknamed Claudius, can be Enraged by attacking him. If not attacked, he will remain in his Regular form.
References
Edit
Community content is available under
CC-BY-SA
unless otherwise noted.