Send a Valentine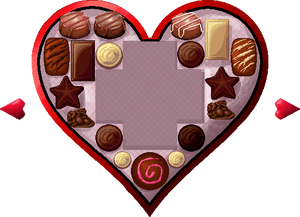 Card viewer
2012 was the first time Dragon Cave was celebrating Valentine's Day not only with the release of a new holiday dragon, but also with a Valentine event! Users could send small Valentine cards to friends or a random stranger. If a User received cards they can be viewed on the big heart and be navigated through the small arrows at both sides of the heart. A notification at the top of the recipients scroll would appear, telling them they got a card. Users could only send one message every ten minutes, to prevent spam.
The Valentine cards a user receives have no labels as to who sent them, so normally users won't be able to figure out who the Valentine came from.
And of course with a new event also comes a new trophy, the one for this event is a small dragon holding a heart shaped chocolate box.

The event started on February 14, 2012 at 00:00:01 and ended on February 21, 2012 at 23:59:59.

There is a forum topic that was used for sending/gifting Valentines: Send a Valentine to the Poster Above You!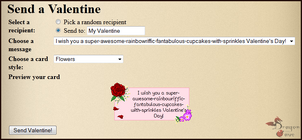 This is the message board which appeared on Valentine's Day. It could be accessed either through the new badge or by clicking "has begun" in the message "The 2012 Valentine's Day Event has begun. You can find more information on the forums." which appeared on top of every users scroll and on the main page.
Contributor List
Edit
Valentine Badge
Edit
The badges were made by Skinst.
| Users | Organizer & Contributor |
| --- | --- |
| | |
Valentine Messages
Edit
These are the 38 sentences which users can choose as their Valentine message. Behind each message the name of the writer is listed.
One specific message was a riddle to some of the users: "Xuff0 Lucodkado'j Tu0." It is written in the Saurian language and means "Happy Valentine's Day".
Valentine Cards
Edit
There are 20 different Valentine cards users can choose from. The artist credits are be listed beneath each picture.
Community content is available under
CC-BY-SA
unless otherwise noted.