Pitfire Dragons were released on October 31, 2020, as part of the 2020 Halloween event.
Pitfire Dragons have a secondary "reborn" form, which is unlocked via a unique breed feature. Killing an adult Pitfire will cause the dragon to immediately revive in the exalted "reborn" form. Only adult Pitfires will revive in this way, while Pitfire hatchlings will die normally. Pitfires may still dodge the kill action. After a Pitfire has been "reborn" it may be killed normally by using the Kill action again. Unlike Undead Dragons, Reborn Pitfires are considered alive and are capable of breeding.
Official descriptions
[
]
Egg
[
]
Dead leaves obscure this egg's scratched shell.
Hatchling
[
]
Aww... It's a cute baby dragon. It's feisty and enjoys picking fights with other hatchlings.
Mature hatchling
[
]
Aww... It's a cute baby dragon. It's feisty and enjoys picking fights with other hatchlings.
And look! It has grown wings! It must be close to maturing.
Adult
[
]
Pitfire Dragons are an infernal breed, reveling in the suffering and misery of others. These dragons are not known to be strong magic users, nor are they capable of flight. However, these weaknesses are made up for in the extent of their physical prowess. They have little respect for most other creatures, including members of their own family group; however, those that have fought or fallen in battle against formidable foes are highly revered. They are constantly on the move, always on the hunt for food or a skirmish. The malevolent nature of Pitfires is feared by many, and the damage they leave in their wake is a sure sign for those to be wary. Pitfire activity has been noted to increase as the weather grows colder and the nights grow longer.
Reborn
[
]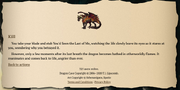 When slain by a formidable foe, a Pitfire will revive with a renewed vigor and ferocity. Wreathed in an otherworldly energy that manifests as ghoulish flames, the newly exalted dragon will exhibit dangerous magical abilities and an increased hunger for cruelty.
Sprite artists
[
]
Sprites
[
]
Series
Egg
Hatchling
Mature hatchling
Adult
Standard female
Standard male
Reborn female
Reborn male
Spriter's Alts
spatio's alternate
Standard female
–
spatio's alternate
Standard male
spatio's alternate
Reborn female
spatio's alternate
Reborn male
Schenanigans' alternate
Standard female
–
Schenanigans' alternate
Standard male
Schenanigans' alternate
Reborn female
Schenanigans' alternate
Reborn male
Egg sequence
[
]
| Stage 0 | Stage 1 | Stage 2 | Stage 3 | Stage 4 | Stage 5 | Dead |
| --- | --- | --- | --- | --- | --- | --- |
| | | | | | | |
Retired sprites
[
]
Encyclopedia entry
[
]

There are no notes available for this breed. Check back later; new information will be added periodically.
Additional information
[
]
"

I am so glad people are enjoying these so far! ❤️

So courtesy of the ever wonderful Spatio, I have a beautiful ref to post for you all!



Aight so these bad boys are all about their pride and battle culture. They are constantly striving to prove their worth in battle, hoping to live up to those they revere as war deities and forever striving to surpass them. While other breeds can sometimes garner their respect, nothing will truly top a Pitfire that has gone to hell and back.

Despite their angry outbursts and often merciless tactics, Pitfires follow an odd yet honorable code. So long as you meet their standards of strength, whatever it may be, you just might be able to get one to tolerate you. Though they utterly despise signs of physical weakness and feel no regret towards killing those they deem frail or inept, a Pitfire will leave well enough alone if they note the weakling to be accompanied by someone more capable.

Should you ever find yourself between a rock and a Pitfire, a suggestion that one might heed would be to entertain the dragon with a riddle. This should be the only form of challenge you initiate yourself. However, be very aware that they are quite unaware of how terrible they actually are at solving riddles. Telling them they are wrong will warrant you nothing but frustration (at their complete and utter lack of logic, I mean, who even comes up with this stuff?) and possibly the dragon's ire.

If people have questions, I'll happily answer some after work! There will also be encyclopedia entries to be excited for 😊
---
"

And here you thought Halloween was over....

Schen and I, in our studies of Pitfire culture, have stumbled upon a MYSTERIOUS RELIC,
which appears to reference the enigmatic "war deities" that the Pitfires always seem to go on about.
Legends of fearsome beasts, more god than dragon, passed down through the ages.





Could they be more than legends...?