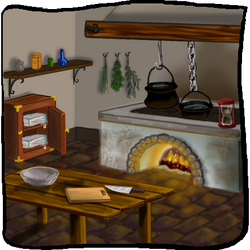 The
Holiday Cooking
event started on December 19, 2012 and lasted until January 2, 2013 as part of the 2012 Holiday Event. Users could find ingredients and recipes that were scattered around the DC website. By combining basic ingredients, new recipes could be discovered.
After a user collected all 17 of the basic ingredients, "red star" recipe cards would begin to appear in addition to ingredients. These "red star" recipes were usually more complex, and gave users a ticket for the 2012 Holiday raffle. As they were used for raffle entries, it was not possible to create a dish from a red star recipe until the user found the relevant recipe card.
Once a user collected their first ingredient, they would gain a Cream Pie Badge to commemorate their participation in the 2012 Holiday Cooking event. After finishing all recipes the Cream Pie Badge turned into a Pumpkin Pie Badge.
As part of the 2012 Holiday event, Holiday Cooking was also used to unlock an additional mini-game, Gingerbread House Decorating. After discovering and making a gingerbread house through the cooking game, users could decorate and share their own gingerbread house.
Contributors
Edit
Cream Pie
Pumpkin Pie
Strawberry Pie
Blueberry Pie
(Contributors)
(Contributors)
Users

Contributor
Recipe Cards
Edit
| Oven Recipe | Preparation Recipe |
| --- | --- |
| | |
Frequently Asked Questions
Edit
FAQ information provided by TJ09 via the news thread: 2012-12-18 - 2012 Holiday Event
Where do I get ingredients?
Basic ingredients have to be gathered. You can find them randomly around the site. More advanced ingredients have to be made from combinations of the basic ingredients.
Experiment! Lots of recipes can only be discovered by choosing the right combination of ingredients.
Once you have all of the basic ingredients, you'll be able to find advanced recipes around the site instead. These advanced recipes cannot be discovered, even if you know the ingredients.
I can't discover any recipes!
That's not a question, but here's some help anyway:
A lot of key items can be made by cooking or preparing a single ingredient. Once you have these, you'll be able to prepare advanced recipes more easily.
Also, try looking at advanced recipes. See what items you don't have, and think about how you could possibly make those missing items.
How do the raffle tickets work?
You get one raffle ticket for each advanced (starred) recipe you successfully make. You only get entered once per recipe; even if you make the item multiple times, it only counts the first time.
How do I cook on a mobile device?
The cooking feature works just fine on mobile browsers. Simply tap the recipe you want to make, or tap ingredients to add them to a blank recipe.
How do I know when I'm done?
When you're done, your badge will change from an cream pie to a pumpkin pie. If this happens, you have discovered and made all of the recipes.
How many ingredients, common recipes and red star recipes are there?
There are 17 basic ingredients, 33 common recipes and 40 red star recipes, which makes a total of 90 food items in the Holiday Cooking Event.
Collection of Recipes
Edit
List of all recipes. (Source: Dragon Cave Recipes : ALL the food!)
There are two main types of recipes which are labeled as "Preparation" and "Oven". It takes a lot of trial and error to attempt recipes. For successful recipes you gain the recipe card. For failures, the following message is displayed:
"You throw all of the ingredients together...
And the result is a giant mess. You toss it into the garbage before anyone notices."
Common RecipesEdit
There were 33 basic recipes that could be created:
Makes
Ingredient 1
Ingredient 2
Ingredient 3
Ingredient 4
Method
Apple Pie
Plain Dough
Apple Slices
Apple Slices
Fruit
Boiling Water
Water
Bread
Bread Dough
Bread Dough
Plain Dough
Yeast
Cake
Flour
Eggs
Milk
Sugar
Caramel
Sugar
Cheese
Milk
Chocolate
Cocoa Beans
Ice
Milk
Sugar
Fruit Jam
Sugar
Fruit
Gingerbread
Sweet Dough
Spices
Gumdrops
Soft Candy
Spices
Hard Candy
Caramel
Ice Cream
Eggs
Ice
Milk
Icing
Chocolate
Milk
Sugar
Lemon Curd
Fruit
Sugar
Eggs
Lemon Meringue
Pie
Plain Dough
Lemon Curd
Meringue
Marshmallows
Water
Sugar
Herbs
Mashed Sweet
Potatoes
Sugar
Spices
Roasted Vegetables
Meringue
Eggs
Sugar
Mushroom Gravy
Sliced Mushrooms
Flour
Water
Mushroom Soup
Sliced Mushrooms
Boiling Water
Spices
Peanut Butter
Nuts
Pecan Pie
Nuts
Plain Dough
Plain Dough
Flour
Eggs
Pumpkin Pie
Vegetables
Plain Dough
Sugar
Roast Chicken
Poultry
Roast Meat
Meat
Herbs
Roasted Vegetables
Vegetables
Herbs
Sliced Mushrooms
Mushrooms
Soft Candy
Water
Sugar
Stock
Meat
Boiling Water
Sweet Dough
Eggs
Plain Dough
Sugar
Red Star RecipesEdit
There were 40 possible "red star" dishes that could be made.
Recipes with a red star in the upper right corner functioned as raffle tickets for the 2012 Holiday raffle. To enter, users had to collect the recipe card, then make the recipe.
Makes
Ingredient 1
Ingredient 2
Ingredient 3
Ingredient 4
Ingredient 5
Method
Apple Cider
Fruit
Spices
Boiling Water
Apple Pie
à la mode
Apple Pie
Ice Cream
Banana Split
Fruit
Ice Cream
Nuts
Beef & Salad
Sandwich
Vegetables
Fruit
Roast Meat
Bread
Biscuits and Gravy
Mushroom Gravy
Bread
Bûche de Noël
Fruit
Meringue
Icing
Cake
Buckeyes
Sugar
Chocolate
Peanut Butter
Cabbage Roll
Meat
Vegetables
Grain
Caramel Apple
Fruit
Caramel
Chicken & Salad
Sandwich
Fruit
Vegetables
Roast Chicken
Bread
Chocolate Covered
Strawberries
Fruit
Chocolate
Cookies
Sweet Dough
Eggnog
Eggs
Milk
Spices
Fruit Salad
Fruit
Apple Slices
Fruitcake
Fruit
Spices
Plain Dough
Gingerbread House
Gumdrops
Hard Candy
Gingerbread
Ham and Cheese
Sandwich
Cheese
Roast Meat
Bread
Hot Cocoa
Milk
Chocolate
Marshmallows
Lemon Meringue Pie
à la mode
Lemon Meringue Pie
Ice Cream
Lemon Tarts
Lemon Curd
Sweet Dough
Meat Pie
Meat
Plain Dough
Meat Pie
Poultry
Plain Dough
Minestrone
Meat
Vegetables
Herbs
Boiling Water
Grain
Mixed Soup
Meat
Vegetables
Stock
Nobake Cookies
Grain
Chocolate
Peanut Butter
Pastie
Meat
Vegetables
Plain Dough
PB&J Sandwhich
Peanut Butter
Fruit Jam
Bread
Pecan Pie
à la mode
Ice Cream
Pecan Pie
Pumpkin Pie
à la mode
Ice Cream
Pumpkin Pie
S'mores
Chocolate
Gingerbread
Marshmallows
Smothered Steak
Vegetables
Roasted Meat
Mushroom Gravy
Sticky Buns
Fruit
Sugar
Spices
Bread Dough
Stollen
Fruit
Nuts
Sweet Dough
Strawberry Tarts
Fruit Jam
Sweet Dough
String Bean
Casserole
Milk
Vegetables
Mushroom
Cheese
Mushroom Soup
Sweet Pastries
Fruit
Sweet Dough
Tossed Salad
Fruit
Vegetables
Vegetable Soup
Vegetables
Boiling Water
Wine
Yeast
Fruit
Yam-Stuffed
Mushrooms
Spices
Mushroom
Cheese
Mashed Sweet Potatoes
Sprites and Sprite Artist(s)
Edit
Here you can see all items that could be discovered.
Community content is available under
CC-BY-SA
unless otherwise noted.