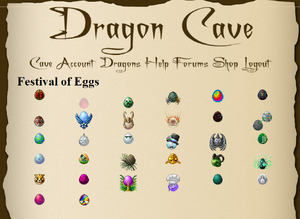 The "Fifth Annual Festival of Eggs", which began on April 20th, 2014, lasts for 3 days, in which users can collect up to 55 'eggs'.
The Glitch Festival:

At first there were 56 eggs to collect but one egg glitched and therefore was removed by TJ09.
Comment about this by Rubyshoes on the forums:
"

One egg glitched so TJ changed the first post to read 55 eggs.
"

Making an egg for the Easter event and having it glitch and be removed because the URL got messed up, and then no confirmation as to whether or not it might get re-added so you don't know if you can post it for everyone to see.

— TCA
"

Since it seems pretty much a thing that my egg isn't getting re-added at this point, I'll go ahead and post it so everyone can see what could have been ;w;






It's a reference to Skies of Arcadia.

— TCA
"

I'm not a hundred percent sure, but from what I was told it was a problem with the URL being too long... because it had to have my username in it and my username was too long?

The hexagon was the symbol of Silver Magic.

— TCA
Spriters of previous FoE events experienced a small glitch with their spriter easter basket badge...they received a second, regular badge this year. - Glitch got fixed
User PrincessLucy posted that she has two eggs of JOTB's gold egg in her Easter basket, which could not only be seen by her but by other users too: linked image for size. - Glitch got fixed

If a user already received a basket from one of the previous "Festival of Eggs" events, the new eggs would be placed in there as well, separated by a border.
If members couldn't participate the event in 2010, 2011, 2012 and 2013, they got the chance to get an Easter basket badge by joining the event in 2014.
A lot of the newer users were confused, since when they hovered their cursor over the little basket badge it would read "Easter Basket - 2010 Festival of Eggs". That's because the images of the 2010 basket badges were also getting used for the following "Festival of Eggs" events.
All information on how to catch the eggs was summarized in form of a small FAQ by SockPuppet Strangler on the forum in 2011, read more here.
Contributors
[
]
Basket Badge
[
]
As the baskets were the same as in 2010, click here for more details: 2010 basket badge
Border
[
]
The border was made by: Ashywolf, Aangs-sister, Mysfytt, Sif and Wynni
Sif assembled the banner and also made the moth.
Eggs
[
]
There were 55 eggs in total.
As they appear in the basket
[
]
Sprites and sprite artists
[
]
Trivia
[
]
"

And I'll explain mine now.
The red hatchling is a bit of a nod to all those "Nope nope nope." memes you see around. Only dragon-iish. No other special references.

The other is very loosely based on the first stanza of a poem by William Blake:
"To see a World in a Grain of Sand
And a Heaven in a Wild Flower,
Hold Infinity in the palm of your hand
And Eternity in an hour."

I put the world in a soup bubble egg.
NiramiTheRaven196's egg is a referrence to Gordon Freeman's hazard suit, a character from the video game Half-Life.
LadyLyzar gave the following explanation for her eggs:
"

The karate egg has all the belts (except for Little Dragons) at the dojo where I am training to be an instructor. We also do jiujitsu but I didn't really have time or the know-how to show that in egg form!

If you look closely (harder to see on some colors than others) you can see three black stripes appear before the belt "promotes" to the next color. We use black stripes to remind us of what our ultimate goal is.

As for the Hungry Caterpillar, it was my favorite book as a child and my sons both adore it too.

I need to get busy catching eggs since I was busy all day yesterday!
JOTB's egg with the white stripes is based on the two-band anemonefish.
"

Egg with two stripes is based on the two-band anemonefish, in case anyone wanted to know. The other egg is just shiny.

— JOTB
Necataris explained what inspired her to make her egg:
"

My egg is based on the Sparkeater from Transformers More Than Meets the Eye. It is a brief enemy that appears early in the series, but I really liked the creature.

— Nectaris
Light Concorde gave the following explanation:
"

I made the egg the way I made it

BECAUSE I LIKE PINECONES

Ok, but seriously. I do. I used to collect them as a kid like crazy. And well, a degree in landscape architecture explains everything x3 If I'll be invited next year, or on Halloween, don't expect anything else but plant-themed sprites. d:
PieMaster's egg was inspired by the song "By The Sea" from the musical Sweeney Todd:
"

Since the list's been posted, I can finally claim this egg as mine xd.png I shall now reveal the hitherto unknown and previously unmentioned reference: Sweeney Todd, specifically Mrs. Lovett's song "By The Sea".
Birdzgoboom confirmed that her eggs are based on:
"

Thank you!! It took a long time of fiddling until I could consider it good/done enough to submit, haha. I'm glad it's well-liked!

--

Yehh, so mine are Bahamut ZERO and a Minecraft Creeper. <3

I love Creepers. ovo
TaesoSpiritDragon explained her egg:
"

I think my egg caused some confusion as to what it was referencing, while it's handy that "How To Tame Your Dragon 2" is coming out soon, I really wasn't intending to reference anything, but it was a certainly interesting reaction! Originally I was wanting to do a hummingbird but I couldn't seem to get it working the way I wanted to XP.
Infinis' egg is a referrenced to the Black Materia from Final Fantasy 7. (Statement from Birzgoboom:)
"

Infi said to me when she was making it that it's a reference to the Black Materia from Final Fantasy 7.

Ghhh<3 But it looks fabulous even without the reference known.
Data_Girl_3's egg is based on Marvin the Paranoid Android from the movie "Hitchhiker's Guide To The Galaxy".
Odeen made her Air Force egg because of her father.
"

My Air Force egg commemorates my father's service as an airman, and anyone else who served in any branch of the armed forces (for any country!). I very much wanted to be a pilot or navigator in the Air Force myself, but they weren't accepting civilian officer applications at the time I applied. The jet pictured in my egg is an F-22 Raptor.

Aim high!

— Odeen
Kiffren's eggs are based on:
"

I'm surprised no one has figured out the reference on my second egg, it's actually a pretty popular video game.

My light blue egg is referencing the fact that I got engaged a couple months ago. I actually sprited the design of my fiance's engagement ring onto it.
The other egg is referencing the video game Bastion. If you haven't played it I strongly recommend it.

— Kiffren
"

I adore it to bits too. When I first saw it, I mentally squealed and giggled like a nut job (about Shajana's Smaug egg). Pretty much the same story for me here, except with Rivendell elves, but that soon changed to Mirkwood elves, thus Thranduil.
"

Thank you I am glad you like it.
I had very early an idea what I want to make for the event. When I watched the 2nd Hobbit movie I fall in love with Smaug, so I had to do the moment when he wakes up. It was not that easy to make the eye, I wanted to make sure that many of you can see which eye it is without any descriptions from me, but I think I was able to do that.

— Shajana
Starscream shared the following about their egg:
"

If anyone cares.
My egg is really a reference to my current self. I know that sounds sort of egotistical or something... but... Purple is my favourite colour, I'm a chef and I now wear a monocle. Perfect egg head
Imbecamiel egg is based on the Avengers.
"

It's making me so happy to look through the thread and see people saying that they liked my egg. ;D

BTW, if anyone wants to see Avengers dragons to go along with the Avengers egg I've got a bunch of them (with more to come) up on my DA.
Verridith shared information about her two eggs:
"

Finally caught my last egg <3 Was so happy to take part in this event!

My first egg has no reference. It's just shiny, LOL. My second egg isn't *really* a reference, though I was thinking of Thor's hammer Mjölnir when I sprited the lightning.

Fun fact: I used the same shading base on both of them, and had to sprite the lightning 'glow' twice because I accidentallied the flash and made it turn into a big white box. Haha!
"

And oh. Uh. I didn't really say anything in the thread did I. Was going to but then bam closed. My egg is based off of Myioborus pictus.




Let's see how long it takes for the Wikia tag team to pick up on this post <3.

— Ashywolf

Not Confirmed: