Warning, this site may contain spoilers! Use at your own discretion.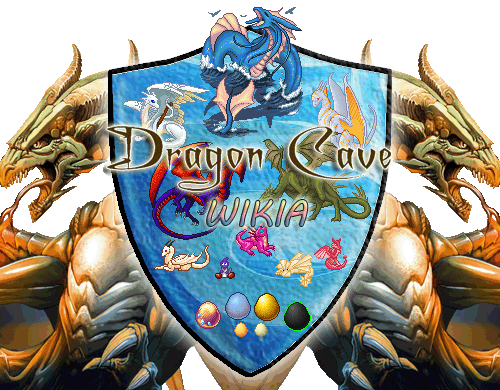 Welcome to the Dragon Cave Wiki
This Wiki is all about the adoptable site Dragon Cave. Discover, share and add your knowledge!
Check out our Wiki Policies if you have any doubts or come across any vandalism, and see our Manual of Style for how pages should be formatted!
Dragon Cave Wiki is a community driven site that anyone can contribute to. The admins are neither part of the main Wikia staff nor hired or paid by the owner and creator of Dragon Cave.
Contents
The Dragon Cave Wiki Team
If you need help or have questions, please feel free to contact the Dragon Cave Wiki team:
Administrators:
Moderators:
See list of all active and inactive admins
Affiliates
Recent News
Featured Dragon
« Albino Dragon »
Check out their breed article here!
How you can help
Not sure where to start?
How you can help!
Check the article stubs section to see if an article needs help.
Check out articles and correct typos and obvious misinformation you find.
If you want to create a new article and you're not sure if something similar already exists, try the Search option, or feel free to ask one of the admins.
You can find a list of useful templates on Category:Templates, some of which are documented on the templates project page.
Check out the wiki forum and community portal to see what the community is working on, give feedback, or just to say hi.
Want a Wiki-supportive banner for your forum signature? Here is one free to use:

https://i.imgur.com/WaqXjLS.png
[URL=http://preview.tinyurl.com/yetost8][IMG]https://i.imgur.com/WaqXjLS.png[/IMG][/URL]