Rename Request

It has been requested that this article or file be renamed: Current release
Reason: More concise, named for the content matter of the article rather than the "being released" action.
If you would like to discuss this change, please use Category talk:Rename.
---
Please be aware that this page may contain spoilers. If you do not want spoilers, please leave now!
This page is used to store information on newly-released dragons and on-going events that have incomplete data, to be used for article creation once the release or event is complete.
---
New Release and Event Policy
Please review the following policies before creating new articles related to recent releases
All newly released dragon and event information/updates is to be compiled on this article only.
---
Please do not add information related to an event or release to any article outside of Currently Being Released until the event or release has concluded.
This is officially marked by the closing of the News thread for the event or release.
Please help collect information about the release! If you're unsure how to add the information you've found, contact an Administrator for help, or leave a note on the Talk page.
Please give files useful, specific names when uploading to the wiki.
For example, instead of "1234.png" or "egg.png", use something like "July release egg.png"
Help keep information as factual and accurate as possible.
Any new release or event information that has been speculated in the community, but not confirmed in-game or by staff should be included in the Rumor section of the release.
Failure to comply with these policies will result in a warning, with the possibility of suspension for repeated violations. Thank you!
– Your Wiki Administrators
Current release
[
]
Article Creation

Please wait until the release thread on the official forums has been closed before creating new articles. See policy above. Failure to comply with this policy may result in a warning or account ban.
July 2022 release
[
]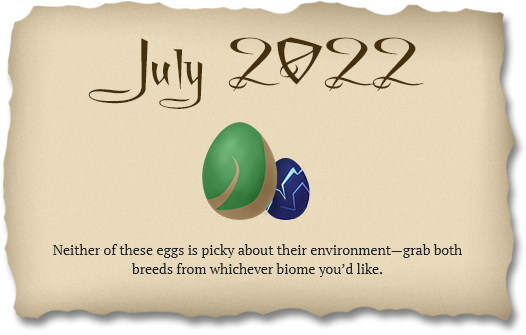 Neither of these eggs is picky about their environment—grab both breeds from whichever biome you'd like.[1]
All biome release
[
]
Sprites
Description
Artist
Egg
This tiny blue egg gives you a slight shock when you touch it.
–
Hatchling
Aww... It's a cute baby dragon. It seems to be particularly fond of lightning storms.
Mewtie
Mature hatchling
Aww... It's a cute baby dragon. It seems to be particularly fond of lightning storms.

And look! It has gotten aggressive towards you now, attacking your hands whenever you come near! It must be close to maturing.

Mewtie
Adult
Lightning Pygmies are well-known as rumors but rarely seen. An ill-mannered breed, their confidence comes from the tremendous energy that they absorb from natural lightning bolts. They hunt in the middle of storms, reaching high speeds and with the help of lightning magic and going after prey like a lightning bolt.
Mewtie
Additional information
[
]
Fact:
Rumor:
Egg sequence
[
]
| Stage 0 | Stage 1 | Stage 2 | Stage 3 | Stage 4 | Stage 5 | Dead |
| --- | --- | --- | --- | --- | --- | --- |
| | | | | | | |
All biome release
[
]
Sprites
Description
Artist
Egg






This scaled egg is surrounded by the others.
–
Hatchling






Aww... It's a cute baby dragon. It has two bulbous tails.
Hawaiianbabidoll
Mature hatchling






Aww... It's a cute baby dragon. It has two bulbous tails.

And look! Its tails have grown...teeth?

Hawaiianbabidoll
Adult






False-Headed Hydra Dragons actually only have two heads. Despite their appearance, their tails are pure muscle and lack any internal organs. In combat, their false heads are used to bait their enemies into attacking their tails instead of their more vulnerable heads, creating openings to strike back. These dragons have been known to frighten and intimidate other species by holding their tails close to their necks, making it look like they are a larger, more threatening four headed beast. They also use their tails to help them hunt their prey, confusing their targets in various ways. Their scale coloration and hunting habits vary depending on their environment. False-Headed Hydras can regrow their tails if they are cut off or badly damaged.
Hawaiianbabidoll
Additional information
[
]
Fact:
Rumor:
Egg sequence
[
]
| Stage 0 | Stage 1 | Stage 2 | Stage 3 | Stage 4 | Stage 5 | Dead |
| --- | --- | --- | --- | --- | --- | --- |
| | | | | | | |
| | | | | | | |
| | | | | | | |
| | | | | | | |
| | | | | | | |
| | | | | | | |
Recent releases
[
]
16th Birthday release
[
]
April release
[
]
Festival of Eggs
[
]
References
[
]