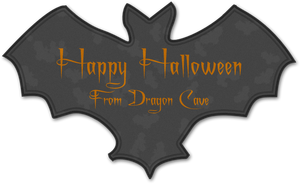 Halloween is a holiday always recognized on DragCave. Every year, a new
Halloween dragon
is released for a brief time, while those from previous years can produce eggs of their own kind. There is also usually some sort of event that is hosted around the same time involving games for people to play.
Events and dragons released over Halloween so far:
2017's event featured the addition of a new temporary holiday-themed habitat to the cave. While dragons caught in this habitat listed "Cave" as their location on the View page, this version of "Cave" was different to site's current and original "Cave" listing. A glitch occurred when these new dragons were bred to other dragons that produced habitat-specific offspring due to the new habitat not being considered appropriately, and occasionally produced "fogball" offspring. Unlike previous occurrences with this glitch, such as "Missingno", the data was recoverable and those affected received the dragons they were meant to have, with the glitch being fixed as well.
All items (4)
Community content is available under
CC-BY-SA
unless otherwise noted.