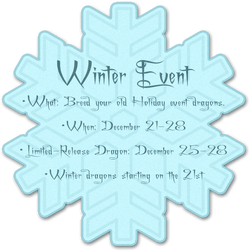 Christmas
, also now called
Holiday
, is a holiday annually celebrated on Dragon Cave, although the religious aspect to it is highly down-played. Every year, a new
Christmas dragon
is released for a brief time, while those from previous years can produce eggs of their own kind. Since 2010, a new Christmas event occurs during the time that previous holiday dragons are breedable, and as of 2010, the season is also associated with raffles for limited-release "prize dragons",
Tinsel Dragons
and
Shimmer-scale Dragons
.

Events and Dragons released over Christmas:

On the Forums:
The forums also have many non-official ways to celebrate Christmas. This includes the DC Secret Santa (going into its third year) and projects to help gift Hollies, Yulebucks, and new Christmas dragons.
Holiday Re-Releases Habitat:
The usual Cave Born scroll limits DO still apply, and this biome will disappear at the end of the breeding event. On the dragon's View page, their biome is listed as "Cave". CB Holly eggs cannot be influenced, and are male-only. CB Solstice eggs will all hatch as the rosy-wing variation. CB Mistletoe eggs cannot be influenced, and are female-only.
Trending pages
All items (27)
Community content is available under
CC-BY-SA
unless otherwise noted.