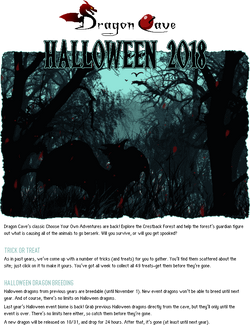 The 2018 Halloween event is underway, Trick or Treat is now active on the site and Halloween dragons of previous years can now breed their own Halloween species. As per last year, old Halloween breeds are now available as CAVE-BORN eggs in their very own biome! This year also brings us a choose-your-adventure event that is sure to be a treat. Enjoy the festive events and good luck hunting!
☽

Happy Halloween!

☾



"Quite a few treats (and some tricks as well) have been scattered throughout the site.
Think you can collect all of them before Halloween is done?" -

TJ09

,

Trick or Treat of 2010

.
More Information: